Trees
Memorial trees can be purchased and planted during the Winter following the burial. These must be trees of native provenance to Lincolnshire such as Oak, Lime, Beech, Field Maple, Wild Cherry or Rowan and supplied by our approved nursery.
These may be planted in the designated tree areas to ensure a properly planted woodland area is created. We encourage families to take part in the tree planting. If a family wishes to take part in planting the tree we will be pleased to facilitate this.
Trees are guaranteed for a period of 5 years after planting. To enable the establishment of a bio-diverse, well managed landscape some trees will need thinning in the future to avoid overcrowding of the woodland.
Grave Planting
Wildflowers – following a burial we provide a packet of locally sourced wildflower seed for families to scatter on and around the grave.
Bulbs – each Autumn we have a native daffodil planting day for families to plant bulbs which we supply We also supply Snowdrops, and English bluebells for families to plant.
To ensure only native plants are growing on the site we regret no other planting is allowed and hope families will abide by our guidance and rules.
Flowers and sprays are allowed on graves as long as they are tied with raffia or biodegradable string and free of any plastic wrapping and containers.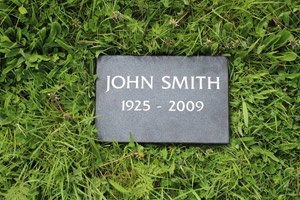 Plaques
Memorial Plaques – we allow a small granite plaque with names and dates.